GAVA Training for VAs
by Tracey D'Aviero from Your VA Mentor
Self Study Training Program
from Tracey D'Aviero, Owner of GAVA and Your VA Mentor
This step-by-step system will teach you the business and marketing skills you need to put a solid foundation in place in your business. Learn how to do your business plan, decide your services, set your rates, effectively network and market yourself, and learn to sell your value to your clients. This program has ten content-packed lessons and lots of resources that you need to build a successful, profitable and sustainable business. You'll also get resources to help you set goals, get and stay organized, and work better with your clients. - See more at: http://www.getstartedva.com
Use coupon code MEMBER for a 10% discount on the program price. Prices listed are in CAD.
In this free ebook, find out what it's like to be a VA, what types of services you can offer, specialized industries and tasks that clients need and want, and my 8 Steps to Starting Your VA Business.
Getting Started as a Virtual Assistant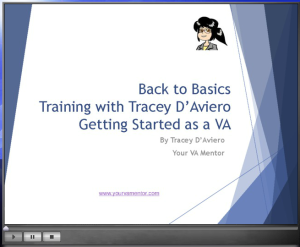 If you are considering becoming a VA, or if you have just gotten started and aren't quite where you want to be, check out this training session. We'll talk about what you need to open a VA business - from mindset, to attitude, to actual STUFF you need to set up. This one's awesome!
Building Your Business Plan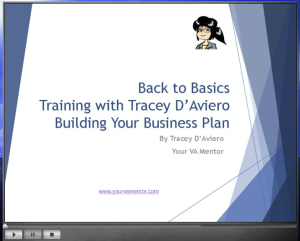 Do I need a business plan to be a VA? Well if you want to have any level of success, YES you do. So get yours started! We'll talk about the most important elements you need to research to build your business plan, and why each of those things is so important for your success.
Get Your First (or Next!) Client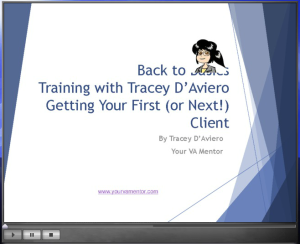 Good clients are not hard to find. Everyone's money is NOT the same colour (there are good and BAD clients!) Learn the RIGHT way to get clients, and you will soon have a great network, and more clients than you realized you could have! (Hint: you will need to talk to people!)
Goal Setting to Get Clients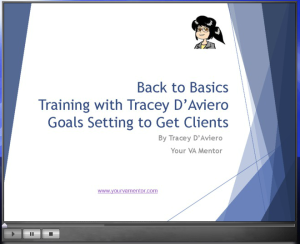 Getting clients takes strategy, planning and most of all ACTION. If you are not setting goals to get new clients, then you are probably working harder at it than you need to. In this lesson we talk about how to set goals to break the daunting task of connecting with people to get new clients up into smaller pieces, so it's actually fun!
Your Marketing Message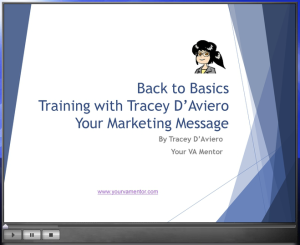 How you talk about your business is so important. You need to give the same message to a lot of different people, but in different ways. I don't believe in having an elevator speech - gasp! - but I know the importance of succinctly telling people what you do. Your marketing message is the key to being able to articulate what you do in words that THEY understand.