GAVA Training for VAs
by Tracey D'Aviero from Your VA Mentor
Self Study Training Program
from Tracey D'Aviero, Owner of GAVA and Your VA Mentor
This step-by-step system will teach you the business and marketing skills you need to put a solid foundation in place in your business. Learn how to do your business plan, decide your services, set your rates, effectively network and market yourself, and learn to sell your value to your clients. This program has ten content-packed lessons and lots of resources that you need to build a successful, profitable and sustainable business. You'll also get resources to help you set goals, get and stay organized, and work better with your clients. - See more at: http://www.getstartedva.com
Prices listed are in CAD.
In this free ebook, find out what it's like to be a VA, what types of services you can offer, specialized industries and tasks that clients need and want, and my 8 Steps to Starting Your VA Business.
Getting Started as a Virtual Assistant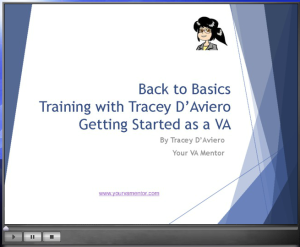 If you are considering becoming a VA, or if you have just gotten started and aren't quite where you want to be, check out this training session. We'll talk about what you need to open a VA business - from mindset, to attitude, to actual STUFF you need to set up. This one's awesome!
Help! I Have No Clients!
So you decided to become a VA but you still haven't gotten your first client. Why not? In this training, we talk about what you have been doing to try to find clients, and what you can change. You will learn about the importance of WHAT you are saying, in your marketing message. It's about clarity and connection.